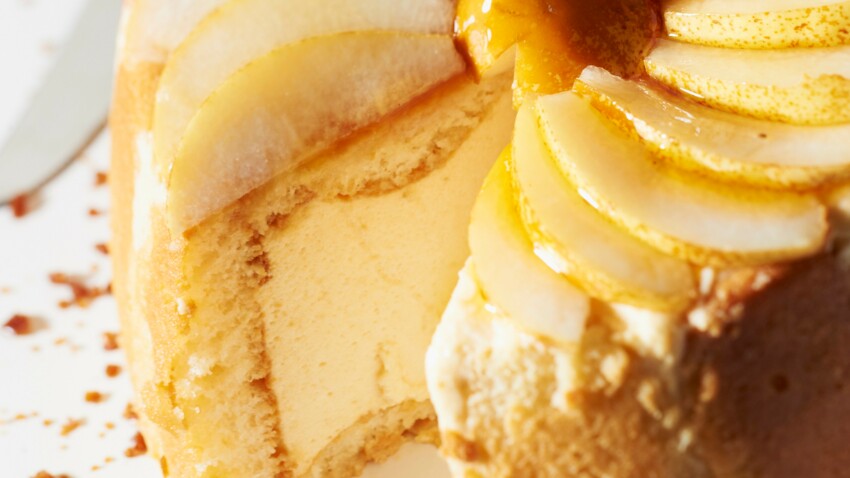 French Cooks note
| | |
| --- | --- |
| Recipe Name : Super Easy Pear Charlotte | By Chef : Pierre |
| Type : Dessert | Servings: 6 |
| Difficulty : Average | Cost : Average |
| Preparation time : 45 min | Cooking duration : No data |
Ingredients for 6 people
1 box of 30 ladyfingers
50 g green marzipan
2 tsp unsweetened cocoa
20g Butter
3 Pears
1 Lemon
180g Sugar
2 sachets Vanilla sugar
40 cl Liquid cream
5 sheets of gelatin, 2 g each
Directions from Paris (with Love)
1. Put the gelatin sheets to soften in cold water.
2. Peel the pears. Cut them in half. Eliminate the heart and the pips. Place them in a saucepan with the two sugars, cover with water and add 1 tbsp. lemon juice. Let them cook over low heat for 15 minutes. Remove half a poached pear and set aside.
3. Blend the other pears. Add the drained gelatin to this hot puree. Let cool completely.
4. Prepare the syrup: heat 100 g of sugar and 20 cl of water. Remove from the heat and add the pear alcohol.
5. Whip the very cold whipping cream. Gently fold it into the cold pear purée.
6. Butter a charlotte mould. Line the bottom and edges with a row of cookies, domed side out. Using a brush, soak them in syrup.
7. Cover them with half of the pear mousse. Lay out a second row of cookies. Soak them in turn. Cover with the rest of the mousse.
8. Place the charlotte in the refrigerator for 4 hours.
9. Unmold the charlotte onto a serving platter. Dust it with sifted cocoa. Decorate with the reserved pear half and marzipan leaves. Serve well chilled.