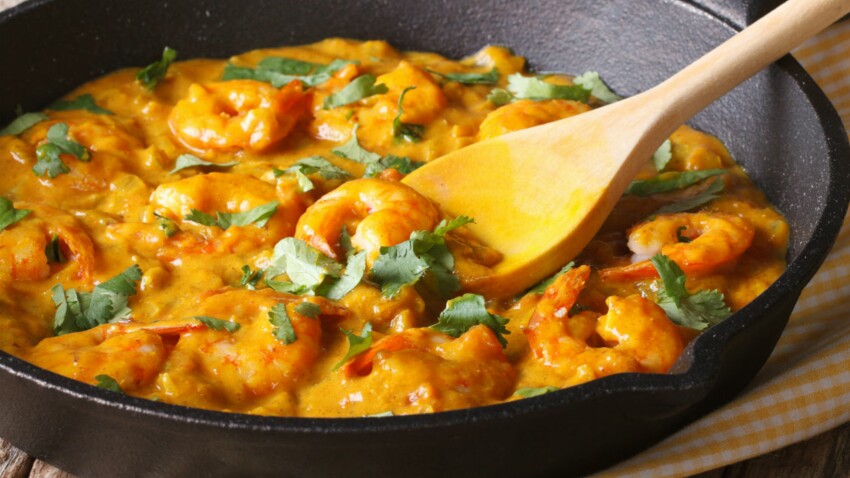 French Cooks note
| | |
| --- | --- |
| Recipe Name : Pan-fried curry-coco prawns | By Chef : Pierre |
| Type : Flat | Servings: 4 |
| Difficulty : Very easy | Cost : Average |
| Preparation time : 10 min | Cooking duration : No data |
Ingredients for 4 people
600 g cooked prawns
1 onion
2 tomatoes
1 Chilli
2 garlic cloves
3 cm of ginger
1 teaspoon Curry
20 cl coconut milk
10 cl Liquid cream
1 Lime
1 Bunch of coriander
2 tbsp Olive oil
Salt
Pepper
Directions from Paris (with Love)
1. Peel and chop the onion and garlic. Wash and cut the tomatoes into cubes. Peel and grate the ginger. Cut the pepper into rings. Chop the cilantro.
2. In a frying pan, heat the olive oil and brown the onion. Add the garlic, ginger, curry and chilli. Let cook for 2 minutes.
3. Add the tomatoes and heat for 3 minutes over high heat. Pour in the cream and coconut milk and mix. Add the prawns and half of the coriander then heat for 2 minutes.
4. Serve with Thai rice and garnish with the remaining chopped coriander and a dash of lime.
5. Want more recipes? Put the shrimp in the lead!