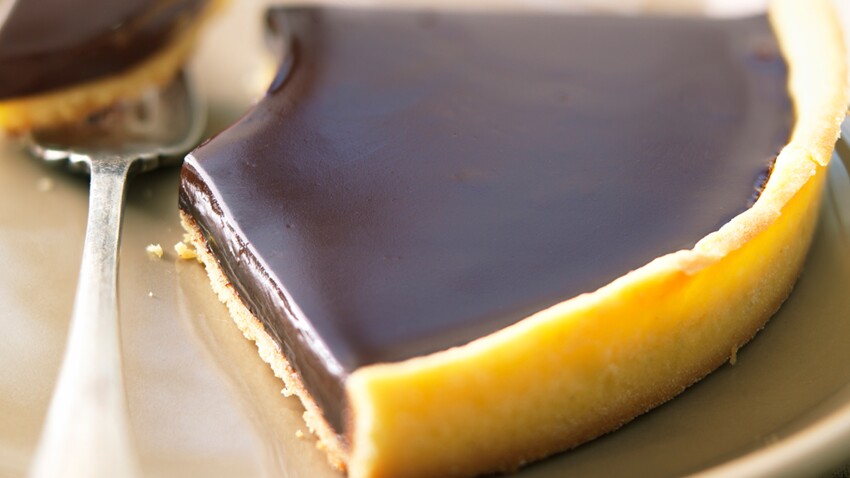 French Cooks note
| | |
| --- | --- |
| Recipe Name : Frederick Anton's Chocolate Tart | By Chef : Pierre |
| Type : Dessert | Servings: 4 |
| Difficulty : Very easy | Cost : Cheap |
| Preparation time : 20 min | Cooking duration : No data |
Ingredients for 4 people
180g Flour
70g Icing sugar
75g Butter
3 egg yolks
50g Milk
120g Whipping cream
120 g 60% chocolate
12g Butter
2 small eggs
Directions from Paris (with Love)
1. For the pie dough:
2. Sift the flour and icing sugar.
3. Mix the softened butter (make it sand). When there are no more large chunks of butter, stir in the egg yolks. Refrigerate for 30 minutes.
4. Roll out to 3mm thickness and make a circle 18cm in diameter.
5. Bake the dough blind at 160° for about 10 minutes. Take it out of the oven and let it cool.
6. The trick: you can also buy ready-made shortbread or shortcrust pastry to save time.
7. For the ganache:
8. Preheat the oven to 170°C.
9. Crush the chocolate in a mixing bowl. In a saucepan, boil the milk, butter and cream. Pour this mixture over the chocolate.
10. Mix gently, being careful not to make bubbles. Lightly beat the eggs, then add them to the mixture.
11. Pour this mixture into the bottom of the previously blind-baked pie, turn off the oven and bake for 16 minutes to cook gently in the oven off. Close the oven, cook for 15 minutes.
12. Check for doneness by tapping lightly, the pie should jiggle slightly. And if not, you can put the pie back in the oven for another five to fifteen minutes.
13. Discover the chocolate pie recipe on video.